Company profile
●Company Overview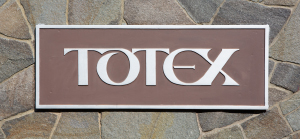 TOTEX Corporation
 Head Office/Ageo Factory
  765 Oaza Ueno, Ageo-shi, Saitama, Japan, 362-0058
 International Division:
  Fujibiru-Shintoshinkan, 4F, 1-93-1 Kitabukuro-cho, Omiya-ku,
  Saitama, Japan, 330-0835
  TEL: 048-776-9380 FAX: 048-641-9381

Foundation: January 5th, 1939
Paid-in Capital:10,000,000 JPY
Employees:70
Directors:
President Takao Nasu
Director Ken'ichi Tsunoda
Director Toshio Kodaira
Director Hiroyuki Iwai
Director Gosuke Imai
Business Details:
Rubber balloons for meteorological use (weather balloons)
Rubber balloons for displays and events
Parts for rubber balloons
Parachutes for meteorological use
Winter windshield wiper blades hood
(for the prevention of snow-induced damage caused in cold climates)
●Company History
April of 1937
House of Peers member and President of Katakura Industries Co., Ltd., Gosuke Imai, sets up a business office in Hirai-cho, Katsushika-ku, Tokyo, for the purpose of manufacturing of rubber threads for silk socks.
January of 1939
Company name changed to Far East Chemical Industries and commences manufacturing of rubber balloons for meteorological use. Katakura Industries Co., Ltd. Director Goroku Imai becomes President and Representative Director of the company.
February of 1940
Company succeeded in developing rubber balloons using the rotation-manufacturing method.
August of 1945
Development of balloons for high-altitude observations and large-sized rubber balloons is commenced.
April of 1957
Mass manufacturing of large-sized rubber balloons (for observations up to 30 km) is a success. This opportunity was taken to register the balloon trademark "TOTEX BALLOON".
April of 1959
Company joins the Japan Association of Meteorological Instrument Engineering.
August of 1960
President (CEO) passes away and Goroku Imai once again becomes the President(CEO)of the company.
February of 1962
Commencement of manufacturing of rubber gloves for work with cloth lining.
October of 1963
Company moves location of the head office factory to Ageo City in Saitama.
April of 1965
Company name is changed from East Asia Rubber Industries to Totex Corporation.
October of 1969
President and Representative Director Goroku Imai passes away and Kimito Imai becomes the new President.
March of 1980
Manufacturing of rubber gloves for work with cloth lining is halted and full-fledged manufacturing of rubber part of winter wiper blades is started.
April of 1984
Company merger with Dai Tokyo Trading. Established the Overseas Sales Department and 2nd Business Department in Kyobashi ,Chuo-ku, Tokyo, and changed the name to the Tokyo Sales Office. Hisato Imai becomes a chairman of the board of the company.
June of 2002
Chairman Hisato Imai steps down from position of Chairman and becomes a consultant.
February of 2004
Joined HMEI (The Association of Hydro-Meteorological Equipment Industry), an organization part of the WMO (World Meteorological Organization).
June of 2004
President (CEO) Kimito Imai steps down from his position and becomes Honorary Chairman. Takao Nasu becomes President (CEO) of the company.
November of 2008
The Tokyo Sales Office moves to Saitama City and the name is changed to the International Div. Omiya Sales Office. August of 2017
Seismic retrofitting of Head office and factory at Ageo City in Saitama completed.
The International Div.Omiya Sales Office acquired Information Security Management System certification (ISO27001). December of 2021
Company obtained the "Plan to Strengthen Business Continuity Capabilities" certification from the Ministry of Economy,
Trade and Industry.