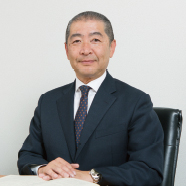 President
Takao Nasu
Aiming to manufacture products the entire world can trust and rely on.
Since our founding, our company credo has been
"Keeping in touch with fundamentals and doing things the right way. "Keeping with that, we've been continuing to
manufacture rubber balloons for meteorological observations for over 80 years based on honest corporate management.
Right now, our products are used at weather observation-related institutions around the world and contribute to the prediction
of metrological phenomena. Moreover, we apply rubber-latex processing technologies to produce winter windshield wipers for
automobiles, contributing to ensuring the visibility necessary for safe winter driving. At TOTEX, we'll also be aiming for
product development that meets the needs of the future through our command of special processing technologies for rubber.
Going forward, I guarantee you'll be able to count on us more than ever to bring you what you need.
◆Company Principles◆
Our employees are all equal, regardless of nationality or educational background.
Our employees all always act courteously towards others.
Our employees always work together to get things done.
Our labor and management work together to think and act within a relationship of mutual reliability.